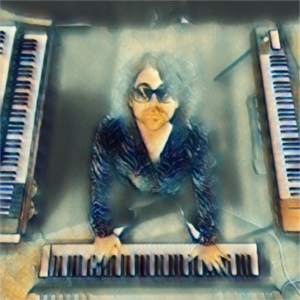 Murat Hammond is a musical artist from Europe, with roots in Turkey. He is based in Amersfoort, The Netherlands, where he produces from his own music studio. He mainly plays the hammond organ, but he also produces live on stage with plugins, and has customized his own whammy clavinet, which he also uses on stage. Murat produces various styles of music, including the characteristic hammond R&B and jazz, but also electronic and experimental music. 
Besides that, Murat is an agricultural engineer, for which his creativity comes in handy. 
In addition to countless collaborations with other artists and groups, he has performed with his own band, Murat Hammond Quartet, throughout the Netherlands at many unique locations and festivals, in many places in the rest of Europe, as well as in Singapore and Turkey. 
Murat Hammond produced his first album in 2021, this is a collaboration with James Robinson, Tom Beek, Marianne Haverkamp, Can Ercan, Martin Verdonk, Cees Trappenburg, Alp Türeci, Mehmet Özen, Marcel Serierse, Gokhan Cebecioglu and Udo Pannekeet. The title of the album is "Traveling" and each song describes a unique travel experience, in which travel is often seen as a metaphor.